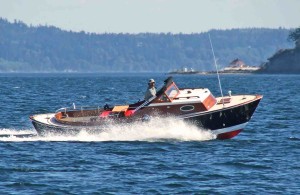 I built my 26′ sport-fishing Bartender Storm Crow in spare time over the course of 4 years. I was guided through the build by George Calkins' original drawings and instructions, with crucial advice along the way by Bill Childs, proprietor of the Calkins designs.
When I chose the Bartender, I admired the looks and the reputation, but had only a general sense of the design's virtues. With each step in the building process my appreciation for the Bartender's beauty and intelligence grew. But the true revelation came on the water; from the moment of the first launching through every hour thereafter, I have been amazed and thoroughly gratified by the boat's performance. Each day on the water brings fresh insight into what the boat can do, and how well she does it. Not once have I had to apologize for a shortcoming, or make allowances for limitations other than my own. I've found no need to modify the boat, add ballast or mechanical appendages, or compensate in any way to improve performance. I hewed close to the plans, took seriously the admonitions of George and Bill to keep it light and keep it simple, and the payoff is a dazzling thoroughbred of a boat, if I don't say so myself.
Storm Crow will top 30+ knots, cruise 20 knots at 4 gph, and carry fuel for a realistic cruising range in excess of 400 statute miles. I set her up for sport-fishing and general family adventure on the big waters of the Pacific Northwest, and she has proven to be aces at that.
I've met few people unappreciative of my boat's appearance, but I realize that, like myself before building her, most can only half-way imagine the full visceral glory of a correctly built Calkins Bartender. That perspective is the privilege of those who have had a chance to live with one.