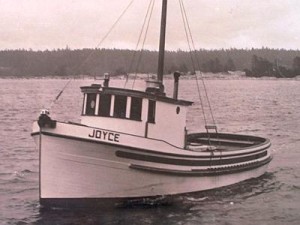 George Calkins was born in 1911 in Cloverdale, OR. He was drawn to boats at a very early age and began whittling them out as soon he was old enough to own a pocket knife. He built his first boat when he was 15. That 14 foot rowboat initiated his colorful and lifelong career as a boat builder and designer. George received no formal training in either boat building or boat design. His only teachers were trial and error, ambition, and experience. Between 1937 and 1946 George built a string of highly successful commercial fishing boats for the NW salmon and tuna fisheries. Some of these boats are still working today. During WW2 George built boats for the war effort. After the war he began focusing on smaller plywood boats. Prams, rowboats, dories, runabouts, race boats, and cabin cruisers emerged from the CalkinsCraft shop at Delake, OR (now Lincoln City). Over a ten year period George built over 1,000 plywood boats.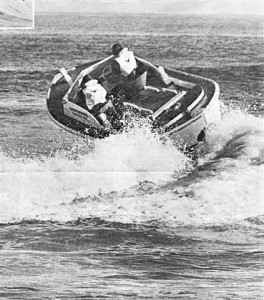 In the mid-1950's, seeing a need for a shallow draft planing boat that would safely handle rough sea conditions while crossing the river bars off the Northwest coast, George began designing a double-ended planing boat. The 22-foot BARTENDER design, based on the seaworthy surf dories native to the area, was fully developed in 1958. Its success was quickly recognized and plans were developed for the amateur boat builder.
The USCG tested the 22′ BARTENDER and added it to their list of approved craft for service. It served both the East and West coast as well as the Great Lakes for USCG patrol and rescue work.   In 1960 the 22′ BARTENDER was chosen for the Kiekhaefer National Safe Boating award. Added later to the BARTENDER fleet were the 19, 26, and 29 footers.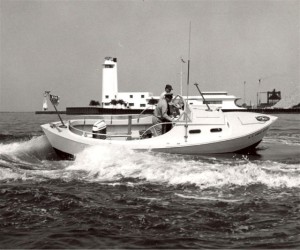 Besides being successfully built and used by recreational boaters all over the world, BARTENDERS have been used extensively in Australia by harbor patrols, state police, and Australia's famous surf rescue teams. Several oil companies have utilized the BARTENDER in the offshore oil industry to get them through rough sea conditions that most other small craft would not handle.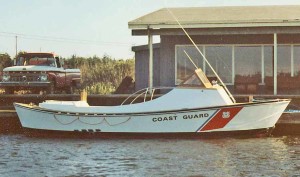 U.S. Coast Guard Evaluation – 22′ BARTENDER
30 October, 1958 S82
From: Oinc CG Moorings Depoe Bay
To: Commander, 13th Coast Guard District (o) Via: Commander, CG Group Yaquina Bay (Newport)
Subj: Evaluation of CG-22103 Motorboat Dory as requested by CCGD13 (o)

1. CG-22103 is a fast, light-weight, double-ended, self-bailing, planing type boat capable of speeds up to 30 mph. This boat has a draft of 8 inches and will maneuver very quickly. All the above characteristics make it extremely useful in fast running rough water at river entrances.

2. For its size CG-22103 is very seaworthy. On 23 August, 1958 CG-22103 was taken into breaking swells of 15 to 25 ft heights on the Siletz river bar. Six breaking swells of this size were taken. Each of the first three breaking swells were taken at idle speed, bow into the breaking swell, resulting in the bow being thrown to starboard, the boat healing onto its side and water covering the boat entirely. Each time the boat skidded with the break approx. 100 ft then freed itself. The fourth and fifth breaking swell was taken at half throttle. The results were almost the same as occurred on the first three breaking swells except the boat kept its heading and was not thrown on its side but was carried backward. The sixth breaking swell was taken at full speed. The bow was caught under the curl of the break but the speed carried CG-22103 on through the breaking swell and out into open sea.

3. As each of the six breaking swells hit CG-22103 the after cockpit was completely filled. The few seconds between breakers CG-22103 would completely bail herself through her 14 scuppers. the only damage to CG-22103 which occurred from the six breaking swells was the deck seam around the cabin was loosened enough to allow a small amount of water to seep through.

4. CG-22103 has been operated by this unit in both the open sea and shallow water under various sea conditions. At all speeds this boat operates very well. When running before a following sea very little shearing or broaching occurs. When running into a large sea at a fast speed this boat has a tendency to hold by the stern after crossing over the swell which allows this boat to drop into the trough with little or no pounding. When running broadside to a sea this boat holds a good steady course without any shearing.

5. It is the opinion of this unit after using this boat underway a total of 611.3 hrs. that for its size CG-22103 is capable of doing jobs far beyond the capabilities of other types of boats. Also due to its seaworthiness and the characteristics listed in para. 1 of this report, this type boat can be used for numerous jobs throughout the Coast Guard. Also due to the small size of this boat and its ease of handling, the time required to train personnel to operate this boat is very slight. Anyone with boat experience can operate this boat under normal sea conditions.

Giles M. Vanderhoof, BM1 Officer in Charge