Description
This new BARTENDER fills a previous gap in the line-up. Custom stretched 19′ BARTENDERs proved to be a great success so we decided to offer a new model to fill the demand. With more length, beam, and freeboard than the 19′, the 20.5′ is well suited for a cuddy cabin and is perfect for four cylinder inboard installations. This model can be powered by outboard or inboard and can be built as an open runabout or with a cuddy cabin. The well detailed plans and instructions guide you through any of these options.
Outboard power recommendations for the 20.5′ BARTENDER are 40 – 60 hp to 250 lbs. The motor well allows the outboard to tilt for beaching. Inboard power recommendations are four-cylinder inline engines 75 – 140 hp to 550 lbs. The inboard installation drawing shows details of the 75 – 125 hp Yanmar diesel JH3/JH4 series and includes a list of other suitable gasoline and diesel inboard packages available.
This new BARTENDER will display the same great economical performance exhibited by her prototype predecessors. By adhering to the build specifications and power recommendations she'll burn between 2 -3 gph cruising at 15 – 18 knots. 30+ knots will be achieved with the higher power recommendations.
The simple plywood on frame construction method makes this an easy boat to build. The highly detailed construction drawings and instruction book will guide you through every step. You have the option of ordering plans with full-size patterns or plans for the traditional lofting method. Both plans sets include detailed instructions and a full materials list.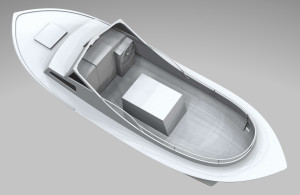 1_205_P&A_Cuddy1_18may2010
| | | |
| --- | --- | --- |
| Length - 20'-6" | Beam - 6'-10" | Length at waterline - 17'-4" |
| Hull Draft - 9" | Weight - 1,400 - 1,600 lbs. | Inboard or outboard power |